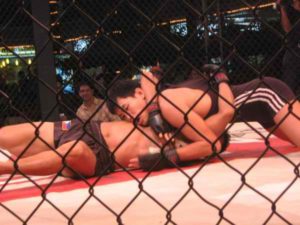 Mixed Martial Arts -I always found there was something special about a fair man to man fight.
I came into the sport of MMA as a grappler. I started learning Judo when I was fourteen years old. I picked up wrestling when I was in my junior year in college in 2002 or 2003.
Like every MMA athlete it was my dream to one day become a UFC champion.
I think I had my first MMA fight in 2003. I even used to be on a reality TV show The Real Pinoy Fighter where I was up for the championship but I was disqualified due to health reasons. The last fight I had was right before joining the Foreign Service in 2008. In fact I even had my oath taking as a foreign service officer in crutches.
I used to fight under the Philippine MMA Team SPRAWL, which is an acronym for Select Pro-Fights from the Amateur Wrestling League. Team SPRAWL used to consist of mostly wrestlers, some of whom trained with the Philippine National Wrestling Team.
I still train and coach a small MMA class once a week.
MMA is sport that love. I started a website for people who have full-time jobs but still train in MMA like me. The site is:  http://mmafortheworkingman.com
I'll admit I don't watch MMA so much now-a-days, so forgive me if I miss the latest UFC, but training in MMA is part of my life. For me, it's a way of life.