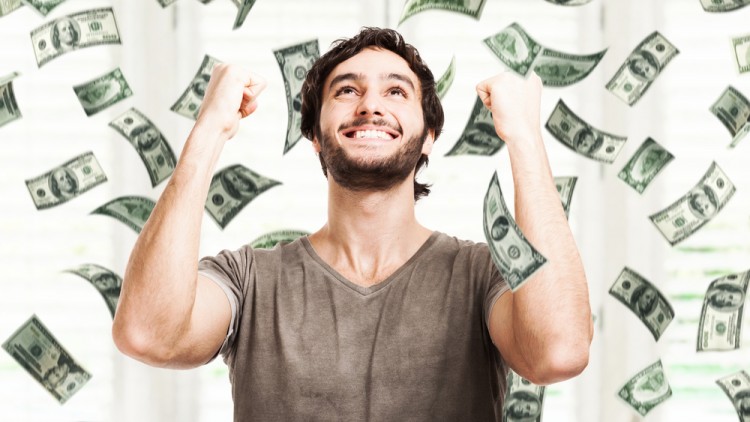 Payoneer is an e-Commerce payment platform that allows you to accept payments from online companies and transfer this money to your local bank account or withdraw the money from a Payoneer issued Mastercard debitcard/ATM. Almost all large reputable online companies can remit money through Payoneer, including Amazon, Upwork, iStockphotos, 99designs, AirBnb, Fiverr, Clickbank, GettyImages and around 2,000 other online companies. You can also send payments to other Payoneer users.
Update (Dec. 9, 2019): Payoneer can also handle your payments to Lazada for those who want to grow cross-border sales on Lazada in the following countries: Indonesia, Malaysia, the Philippines, Singapore, Thailand and Vietnam.)
Payoneer can pay in over 200 countries including the Philippines. Your local bank account can be Bank of the Philippine Islands (BPI), Banco de Oro (BDO) or Metrobank or whatever local bank account you hold.
As a small hobby, my brother and I sell some artsy stuff on Amazon.com, and every two weeks I usually have a small remittance from stuff I sell Amazon by direct international transfer. My artist brother and I also create Kindle books and sell them on the Amazon platform. I've heard a lot about Payoneer but I never gave it a look. In fact I thought it sounded like a bit of another redundant online service for a problem I have already solved. After all, why would I need another service to save a cent or two here and there when I was getting my payments from Amazon direct to my BPI (Bank of the Philippine Islands).
A couple of months ago after having heard all the buzz about Payoneer, I finally decided to sign up for it a few months back. But I honestly never really thought there would be any advantages to using it that would be worth the time I would spent fiddling around with an online payment system, so my Payoneer account lay unused with zero balance for quite some time.
That was until last month, when it happened. It was the kind of thing that you've heard happens but never thought it would ever happen to you. My remittance by ACH (Automated Clearing House) from Amazon US didn't arrive.
Whenever Amazon pays me, it usually takes around 5 business days for the money to be available in my BPI account. So when I got a notice in early June that Amazon would remit money to me I didn't think anything out of the ordinary, and expected the money to show up on my account. However, my days of waiting turned into weeks. On the third week of not seeing the money I contacted BPI and I contacted Amazon back and forth several times. BPI needed the bank name and name of the remitter, which the Amazon reps couldn't provide it. Then after about two weeks of back and forth, finally the remittance arrived.
That's when I decided okay, it's time I try out Payoneer. So here are the pros and cons of using it:
Long Approval Process – While signing up for a Payoneer account is quite a straightforward process that can be completed in minutes, the approval process before you can start using your Payoneer account and electronic account is a long one. I waited for more than two weeks. Have your driver's license, passport or another government ID nearby when you sign up since you'll have to send a picture of one of them.
Update: Nov. 11, 2017 after having horrendous Paypal troubles (which has a seamless approval process at the start) for over a week, I'd rather stick with Payoneer's long approval process at the start than later being slapped on with an account limitation or freeze later on like what happens to a gazillion other PayPal users.
Extra Step Before Getting Your Money – The obvious drawback here is that there is an extra step you have to once you receive your money from the US Company, you have to transfer it to your local bank (BPI, BDO or any Philippine bank). Well, you can always batch it by just scheduling to pay yourself every month or every week or whenever it seems appropriate.
Minor Peeve: You can't get a Chinese RMB account on Payoneer without a 身份证 or Chinese national ID card for those of you who transact business with people from Mainland China and want to receive money in RMB/Chinese Yuan.
Collect or Request payment for companies in US and Europe – having a US, UK, and EU bank account makes things so much easier.
Update (Aug. 4, 2017): You'll also be able to open up a JPY (Japanese Yen), AUS (Australian Dollars) and RMB (Chinese Yuan/Renminbi) account when you sign up for Payoneer account.
Update (August 5, 2019): You can now open accounts to receive Mexican Pesos, Canadian Dollars as well as the currencies listed above. This basically covers all Amazon marketplaces where you can do Amazon FBA. 
Earn more by not losing out on the exchange rate – Payoneer takes advantage of preferential exchange rates rates. Payoneer officially has the lowest fees of all money remittance platforms in the Philippines. Like a good boy, I did my math and I figured you get to save a total of 1% all sending and receiving fees and exchange rates inclusive.
You can get a Credit Card. – A lot of people don't have credit cards. Especially in Philippines, where a bank might not issue an online freelancer or entrepreneur since they have can't present any proof of steady income. If you want to start your own businesses and start reserving your own domains, you MUST have a credit card.
Decide when to Exchange Your USD, GBP, Euros, JPY, AUD, or RMB to local currency – Not only does it have the lowest exchange rates, you can also decide when to change the money you receive into foreign currency. You can wait for example until US dollar rates are highest before changing it into Philippine pesos in your bank account.
(Update: August 5, 2019: this also applies to your Canadian Dollars and Mexican Pesos, as well.)
No late or lost payments! – I thought it would never happen to me, but it did. I could happen to you to. Payoneer means no late or delayed payments since it uses EFT or an Electronic Fund Transfer system rather than a direct international transfer.
Updated (October 2017): There are two more Pro's I'd like to add:
You can now also also link up your funding sources, for example Getty Images (if you're a stock photographer) or your Amazon seller account to your Payoneer so you don't have to worry about the transfer of the money, and you can keep track of your income more easily.
Each transaction transferred into your local currency (for example you'll transfer money from your new US bank account to your local PHP account) will now reflect the exchange rate so you don't have to make any messy conversions. This is a blessing for those who keep a strict accounting of their income, for personal or tax purposes.
Update (Nov. 11, 2017): Payoneer is better than PayPal
Damn PayPal slapped on a limitation on my account since I had trouble with passwords. I got a bit confused since I used two computers at home and in the office. This has wreaked havoc on my online accounts. Their website has really awful bugs and their customer service is absolutely horrendous. I was surprised to see how many PayPal hate pages and Facebook pages there are, and many thousands of people have sued  PayPal. Their practices are purely predatory.
By the way, if you do not live in the US, for example you live in the Philippines, you cannot call PayPal customer support using VoIP like Skype. If your account gets locked or frozen you must call in. You will not be able to resolve it by email. And their only customer service is a local US number. Meaning you will most likely spend a few hundred dollars trying to call them.
Another thing with PayPal if ever you get over a certain amount/limit or their algorithm notice some "suspicious activities" (e.g. forgetting your password) they will ask you to submit a bunch of requirements that will include bank statements, utility bills and the such. This can't be a good thing if your bills are in your parents' or landlord's name.
Update (November 3, 2021): I can't access my Philippine cellphone number since I moved to Beijing in March 2021. Bacause of this I'm having a real hard time accessing my PayPal again, which is a pain since I still have lots of stuff linked to it.
Geez! Paypal! To think one of the founders, Elon Musk, is one of the two richest people in the world. But then again so is Payoneer in a sort which is an Amazon company which was founded by Jeff Bezos, one of the two richest people in the world. Sorry Elon, I'm siding with Jeff on this. I'm pro-Payoneer, PayPal has been awful to me.
Think of what would happen to YOU if you were on a trip abroad and you couldn't receive text messages from your Philippine/local number, and you'd be locked out of Paypal. No such thing with my Payoneer, I just checked my Payoneer account now on my new desktop browser.)
Another thing to think about:
PayPal = eBay = Dying company. eBay is the mother company of PayPal, and is on a long, downward spiral. These freaks still think they control the world.
Payoneer = Amazon = Company of the future. Amazon is the mother company of Payoneer. is one of the companies that is growing like crazy and has good business sense. It's quite obvious it will continue to be the dominant force in the world of e-Commerce for years to come. Any person who thinks long term should go with Payoneer over PayPal.
DO NOT USE PAYPAL.
USE PAYONEER!!! I am livid with rage against PayPal now. Payoneer on the other hand has been awesome.
Verdict: Once you get things set up the only real drawback in using Payoneer is that the money doesn't directly go into your account. But this temporary inconvenience is off-set by all the advantages that come with getting Payoneer account. I defintely recommend online freelancers and entrepreneurs to get a Payoneer.
Was this article helpful to you? – If you think my article was helpful in informing you more about the pros and cons of using Payoneer, you can sign up and the button all the way below.
Back to my home page!