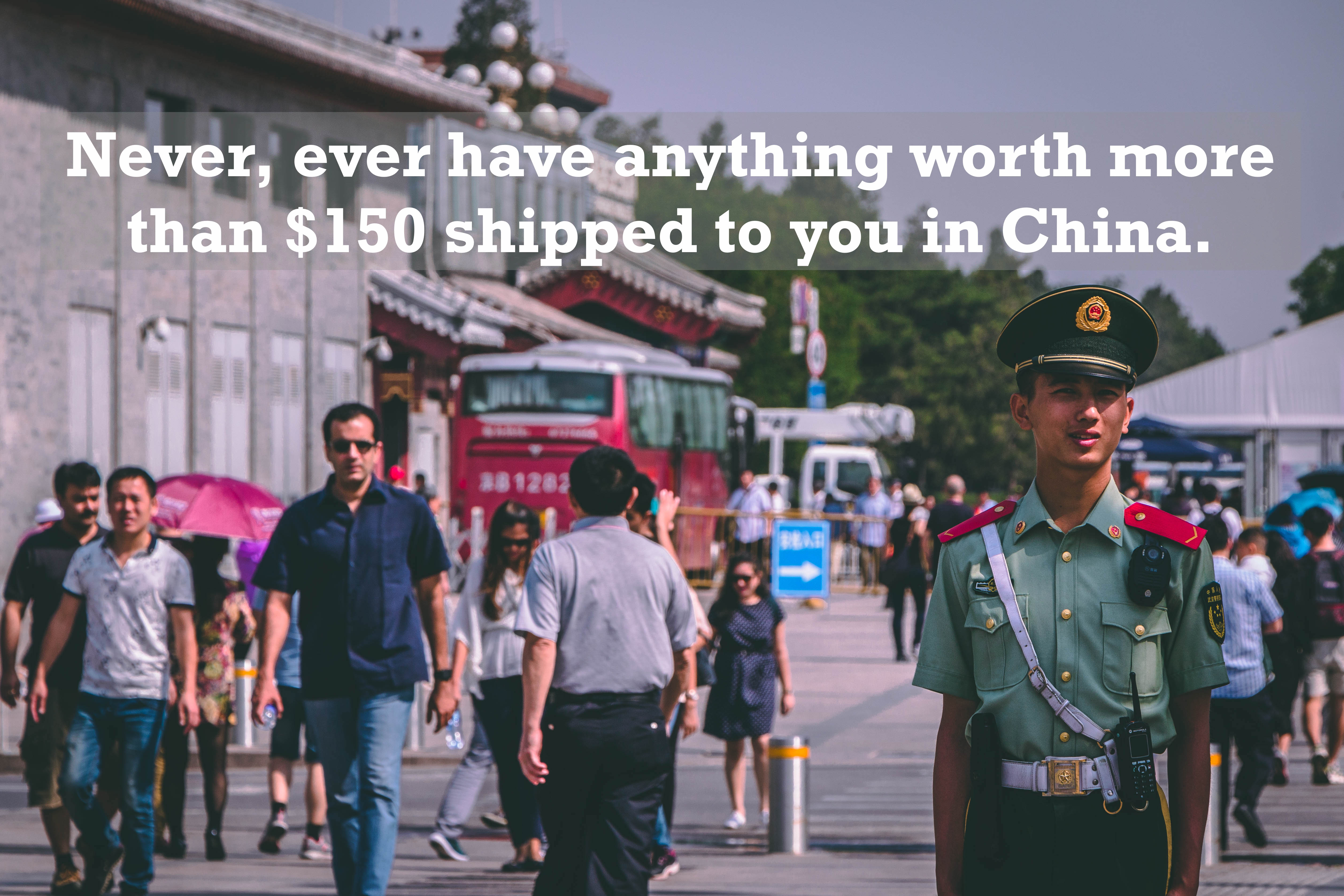 I love physical books. You know, the ones made of paper that have pages that you can hold and flip. Nope, those books that look like paper on your kindle don't count. I mean books made of paper not bytes, not ebooks. I can't seem to get enough of them. Well, don't get me wrong. I have nothing against ebooks. I write and publish ebooks myself too once in a while. It's just that given a chance, I'd choose a paper book over an ebook anytime. In fact, I go through great lengths to acquire them.
So great that in fact I often buy books on Amazon in the US and use a service have them consolidated in one big bunches and sent to me in China. Lots of good publishers don't ship outside the US. So what I do is I buy books a few at the time and have them sent to a warehouse in the US where they are stored until I want to have them sent out. And when I think there are enough of them, I pay the I usually wait till I have somewhere around 10 books before I send them over.
Usually I would have no problem with the shipping of the books. However one day I came across an advertisement on LifeVac – Choking Rescue Device on my Facebook feed. Right on the spot I searched it on Amazon and bought one.
Yup, I had the LifeVac included in my the last shipment. Life-what? LifeVac. What's a LifeVac? Did you know that " Choking is the fourth leading cause of unintentional death in children under the age of 5? Children under age 5 are at greatest risk for choking injury and death. The most common cause of nonfatal choking in young children is food." Scary? Damn right. And you should be. If you have little kids at home check out it out (link to LifeVac). I have two little kids below five and the thought of one day… no, I can't finish this sentence.
(I do realized this 'fourth leading cause of death' thing is based on US statistics but I am convinced that Filipino food is every bit as chunky as food in the US, and kids below five in the Philippines as just as prone to try swallowing more than they can chew than kids in the US. But I'm going off topic here like an off course space rocket.)
Fine. Let's say I like books, but I like saving the lives of kids more. And you can never tell, imagine one day you and the kidsies are eating some chicken and then…. no I won't finish this sentence. What I'm trying to say is, I had to get the LifeVac to me ASAP. So the moment I got the email notification that the LifeVac arrived at the warehouse in the US where I have my books send, I did a wave of the mouse and a couple of clicks and 'Voilà'! I had all the books and my LifeVac consolidated into one box and sent to me that very same day.
So all was fine and dandy. All I had to do was wait for the package to get to me in China as I have done in the past… NOT.
A couple of weeks later, Fedex gave my office (here in China) a ring. Ah! It seems that my package was held up by customs. "Why?" I asked.
"Held for inspection by Chinese customs." the Fedex lady said "You've got to declare the value."
I remembered I filled out a value declaration form online on the warehouse website before I had the package sent, but apparently it wasn't attached. But hey, no problem. The Fedex lady asked for my email. Shortly after, she sent me a template for a "Personal effects Explain Letter" (see pic below) which is sort of like a customs value declaration form. (I think I'll stick to declaration form in this article.)
I logged on to my Amazon account. I listed down the LifeVac and book titles on the form. I printed it. I signed it. I scanned it. I attached it a copy of my passport to the email. Then, I whisked away the email to Fedexland. Problem solved. Right?
Nope.
A day later, we got another call from Fedex lady "It seems like the total declared value of the items you sent us was USD 159.18 which exceeds RMB1,000."
"Yeah, no biggie. I'll pay customs duties on it." I said.
She replied "No, you can't. The only way you can get it is if you send me some links or screenshot of them items you bought on Amazon, and be sure to show the value of everything you sent is less than RMB1,000."
"No. I don't think you understand me. I'm ready to any taxes or customs duties on my package. Let the customs officials do their assessment and I'll pay the taxes." I answered.
I must have sounded incredulous. I was. Of course I can pay customs duties on something I'm having delivered to me from overseas. This lady must clearly not understand what I am trying to explain. She must think I don't want to pay duties on these stuff or something. Language barrier, it must be.
There was a verbal volleyball match where she insisted that I have to send her screenshots or links to the product, and I would insist I am ready to pay any duties the Chinese customs would impose on it. She explained to me that the form the items with the corresponding prices should sum up to less than RMB1,000.
"Don't forget the screenshots." she said parting.
'Screenshot? This is absolutely daft.' I thought. Why can't the Chinese customs just assess the value of the shipment and send me the bill? Did the Fedex lady immediately assume that I was stingy and I didn't want to pay customs fees? 'Not at all, I am righteous man, and I pay customs duties' I told myself.
I first tried to ignore what seemed to be the absurd suggestion that I have to make it appear that the value was less than RMB1,000. So I just sent screenshots of my Amazon order forms with the price I actually paid for the items. After all, the customs should just assess the shipment and use some arcane calculations and come up with a figure, right?
But after two or three email exchanges, I was sent an email that more clearly explained the situation. Here is the email warts and all from Fedex lady dated January 16, 2018:
"HI, DUKE
the total value is USD 159.18=RMB 1051.64.
had over RMB 1000, cannot clear as personal effect.
now you have those ways to handle it:
1.     find the lower price on the internet, the total value is below RMB 1000, and send link to me
2.     the whole package clear as company goods, write the form "快件清关通知书"with Chinese information
3.     return to shipper, shipper need to pay return fee
4.     abandon the package. no add fee. China customs will destroy the package."
My eyes grew grew wide and zoomed in the words "Destroy the package". This quickly reminded me of the then recently concluded RMB incident I had at the Bank of China. Okay so that seems to be it. Gotta follow d' rules.
So obviously option 2 is ridiculous. I am not a company and I will not try to conjure up paperwork to make it seem as if I am.
Option 3 is ridiculous too. No way am I going to send my package back to the US. And what will the US-based warehouse do when presented with a package full of stuff from some guy and a return shipping bill? Probably dump it in the gutter.
Option 4 set of alarm bells. Destroy them? My precious books! My precious LifeVax! You brutes!
That left me to where I began the Fedex lady began. Option one. Send the screenshots.
So yeah, I had to comply. Luckily. So sent her the screenshots of the Amazon pages of books and LifeVac neatly arranged on an MsWord document. For some of the books instead of the price I paid for them, I sent the screenshots of other books from other sellers where the price is a bit cheaper. If you regularly shop on Amazon you know this can be done since multiple sellers will sell the same product at different prices and conditions. Luckily I was just RMB51 or USD7.80 over. So, I guess in fact, they were the true value of the books at the time I was writing them, not what I paid for them, I self-rationalized.
The next day I got a 'thank you for your business email' from Fedex. A few days later, my package arrived. Yey.
All was good. I had my books, and I had my LifeVac Choking Rescue Device. I'm happy. But this incident just got me thinking.
It's hard to imagine that I can't buy a pair of sneakers or say, a barbecue grill, on Amazon or Ebay in the United States or anywhere else in the world for USD160 and have them sent to me in China. Nope. You can't. There's a lot I want to say about that, but as you know, diplomats write very boring blogs.
So there it is folks. If you live in Mainland China, do not have anything over RMB1,000 or around USD150 in value shipped to you. Don't do it. Just don't.